Cedar Rapids, IA – June 23, 2015 – Think Safe andHeartSine presented the YMCA of the Cedar Rapids Metropolitan Area with a donated AED on Tuesday, June 23 at 2:00 p.m. at the Helen G.Nassif YMCA.Five months after staff at the Helen G. Nassif YMCA saved the life of a local school teacher using an Automatic External Defibrillator (AED), the YMCA was awarded a second AED from HeartSine, the device manufacturer. Valued at $1595, the AED will be located in the Welcome Desk at the request of the man whose life was saved after experiencing a sudden cardiac arrest while using the YMCA's indoor track.On January 20, 2015, staff members performed lifesaving measures to the member after he went down on the track. They grabbed the AED and another staff member who was working out at the time, cleared the area and later brought the Emergency Medical Technicians (EMTs) to the site of the emergency. Two YMCA members who are health care professionals witnessed the event and joined in the lifesaving effort until an ambulance arrived. The patient survived and as a result, HeartSine, the AED manufacturer, awarded an AED to an organization chosen by the survivor. He chose to have it donated to the Helen G. Nassif  YMCA so the facility has an AED on each level.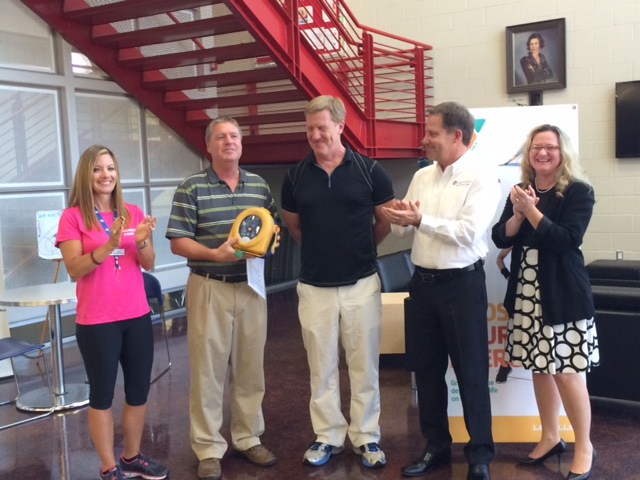 Think Safe is the local distributor who sold the AED to Cedar Rapids Metro YMCA. The donation is made possible by HeartSine, the AED manufacturer, through their Forward Hearts AED donation program. On behalf of survivors who've benefited from their AED products, HeartSine awards an AED to the organization of the survivor's choice. Think Safe President, Paula Wickham said, "This is the way things should work. The Pay It Forward Program allows recognition of a life-saving event and enables others to share their story and life-saving victory over the disease that is the nation's leading killer. Another life may be saved in the future, in the pool area, due to Cedar Rapids Metro YMCA doing the right thing for their members. Our congratulations go out to HeartSine and Cedar Rapids Metro YMCA for another valuable life saved!"
---
Interested in finding out how Think Safe's products and training options can benefit your workplace? Simply contact Think Safe at 888-473-1777 or click on the More Information button, and we'll be happy to contact you. Or, if you like what we do, refer us to a friend!