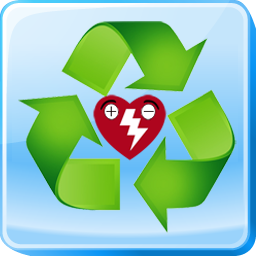 DID YOU KNOW…
Your expired AED battery can be used to create a "Re-Cell" or recycled battery that is manufactured using FDA approved GREEN TECHNOLOGY?
What are recycled AED battery packs and why do I need to know about them?
AED battery packs consist primarily of 2 components:
1.Lithium cells which are common and used in many products.
2. Housing around the cells that fit in specific AEDs. Recycling / Recell simply means replacing the lithium cells within a battery pack with new ones – the exact type and brand that were used originally by the AED manufacturer. The original case (housing) can be recycled multiple times. Here are some facts and features/benefits to the Recell batteries:
Battery has an identical warranty to OEM (Original Equipment Manufacturer).
FDA approved as a Class III medical device. ANSI/AAMI/IEC standards compliant.
Authorized by DOT (Department of Transportation)/United Nations of Tests and Criteria.
Full indemnification protection for harm or loss when used by the public.
Complete AED warranty coverage (these batteries do not void your AED warranty) when using our battery packs.
To purchase "Re-Cell" or recycled batteries (that are much more affordable) you must send us an expired battery.
Why do we Recycle or "Re-cell" the AED batteries?
AED batteries contain toxic, ignitable, and reactive hazardous waste that must be disposed of properly.
Just the battery housing that is dumped into U.S. landfills every year is equal to 2.3 million water bottles in volume.
Eliminate 200 tons of hazardous waste in landfills created annually by lithium AED battery packs.
Life saving AED devices should not kill the environment.
What AED batteries?
| | |
| --- | --- |
| | Philips FR2 |
| | HeartStart FRx or Onsite |
| | PhysioControl/Medtronic Lifepak 500 |
| | PhysioControl/Medtronic Lifepak 1000 |
| | Cardiac Science 9146 |
| | Cardiac Science 9141 |
| | and more… |
GO GREEN. GET RECYCLING NOW!
Call us at 888-473-1777 to verify if your batteries can be recycled or if you get money back.
SEND US YOUR EXPIRED BATTERY & YOU MAY GET UP TO $15.00 per battery!
Please complete the following form with information regarding the EXPIRED AED batteries you are returning. A customer representative will contact you with instructions and payment details. Or, call us at 888-473-1777 or email us!
[contact-form][contact-field label='Name' type='name' required='1'/][contact-field label='Organization' type='text'/][contact-field label='Phone Number' type='text' required='1'/][contact-field label='Email' type='email' required='1'/][contact-field label='Comment' type='textarea'/][/contact-form]