San Benito, TX – September 3, 2020 San Benito CISD has launched a new school safety mobile application and software system called EMMA. EMMA is a mobile and PC-friendly application that allows connected devices of the school and staff to receive notifications and communicate anytime. EMMA is designed as a comprehensive safety system be used for virtually any situation or threat where it is necessary to protect and communicate efficiently. EMMA offers a full offering of prevention, response and management for very critical emergencies or everyday communications that impact the staff and students at San Benito CISD.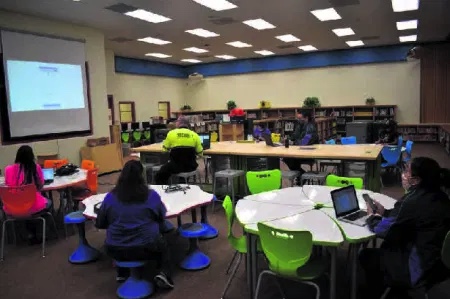 Targeted alerts and responses can occur in a defined geographic area of the school district through the GPS geofencing and mapping feature within EMMA's unique notification system. This allows only those in an impacted area to get the alerts versus often ineffective mass alerts across large geography that are not relevant. In addition, those receiving alerts can also respond back, which is over and above any capability of the US 911 Wireless Emergency Alert Network and current technology of dispatch centers. EMMA provides significant upgrades to public safety officials at San Benito CISD.
San Benito Police Communications Gale Jones says,
"EMMA's solutions are flexible and easy to manage, allowing San Benito's leaders to choose the functionality that works best for our population. We can better protect at-risk individuals real-time and have timely, reliable, targeted and relevant notifications. In addition, it enables coordinated responses not only in our daily communications but also across 911 public safety channels for first response and emergency management. EMMA allows integration with other safety & security systems so that we have more knowledge and communication at San Benito CISD to run our daily operations center and eliminate risks. "
EMMA allows rights and privileges to users based upon their status as students, staff, public safety or administration. All users can utilize the system to report to a responsible party if they see something (students anonymously reporting a threat) or to disseminate information on what to do to take action (staff and administration following public safety directions). The system is designed to include public safety personnel and ensure there is no wasted time in the 911 emergency communications or public safety personnel due to 911 integration that can be enabled. In addition, the embedded EMMA 911 call for help button and the EMMA SOS! allows any San Benito CISD dispatch personnel for San Benito CISD to see that a user of the EMMA system has called 911 and the GPS location of the user needing help or who sees a threat. This feature ensures proper additional communication spreads to others that need to take action immediately, without cell tower or potential overburdened 911 call system delays.
EMMA was developed by Think Safe as a system that solved a long-standing problem of client emergency communication at workplaces and schools, especially across large geographic areas and populations. Think Safe's data analysis of workplace and school medical and other emergencies led Company President, Paula Wickham, to question why smart devices and PCs could not utilized more effectively to solve this problem. "Time is precious, seconds and minutes matter. This is especially true in emergency events or threats and reliance on only using a smartphone to dial 911 is inefficient. That smart device and connected PCs are valuable tools that can be part of the solution if we engage updated software technology, which keeps overhead and capital expenditures down while improving security and safety. EMMA was designed as a best practice solution where clients can customize the features and icons or systems used based upon what they needed for their population and geography."
San Benito Director of Student Services Ray Saldana states,
"It makes us proud to be leading the way in school safety and security with EMMA and offering technology as a solution to our public safety team at San Benito CISD. Not all school districts have funded these types of initiatives or they are using systems that are not as efficient, scalable and cross-functional. We are very proud of our safety and security team for their proactive and conscientious effort to provide very important safety updates to our school district. We want our stakeholders to feel confident that San Benito CISD is constantly reviewing and revising our safety systems. All in our effort to ensure the safety and security of all of our students, parents, staff and visitors."
---
About Think Safe, Inc.
EMMA is a software system that includes PC and mobile application solutions that has been developed and is supported by Think Safe, Inc. in Cedar Rapids, Iowa. Think Safe, Inc. is committed to bringing technology into the field of emergency readiness and response and owns and continually engages in development of patented hardware and software solutions. Think Safe provides products and services that improve access to first response and improve emergency training to facilitate improved emergency response while decreasing threats to improve outcomes. To learn more about Think Safe and its products or services, please visit www.think-safe.com and to find out more about EMMA go to: https://www.emmaadmin.com/