All prices on this website are guidelines for Manufacturer Suggested Retail Price (MSRP) or Minimum Advertised Price (MAP). Please click on "Get Quote" in the product section for a competitive quote and current market pricing. You may also calll Think Safe at 888-473-1777 from 8am to 5pm Central Time, email us at customercare@think-safe.com or click on "Contact Us" in the menu bar and fill out the form provided. Think Safe accepts all major credit cards, purchasing cards, Paypal, and will grant net 30 day terms to qualified clients. If you are interested in becoming a dealer for Think Safe of First Voice products, select the "Think Safe Distributors" menu item in the footer menu or click on "Contact Us" and fill out the form provided.
Amputation Supplies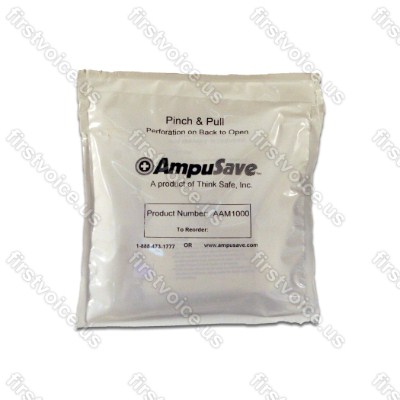 Ampusave
Reduces workers compensation, disability and rehabilitation costs.
Over 70% of the time the severed digit is a complete loss, being forgotten at the scene or transported improperly!
Reduce response time
Increase the chances of saving and reattaching a severed digit
Eliminate the scramble of finding the right supplies
Designed by an ER flight nurse and enthusiastically welcomed by EMTs, paramedics, hospital staff, corporate safety staff, etc.
AmpuSave is a convenient response tool with everything needed for digit/avulsion preservation; saline, gauze, cold pack, and transport bag. Keep it stocked with your emergency response supplies for the unexpected. Ideal for ambulances, fire departments, first aid kits in schools and other public facilities, job sites, industrial settings…anywhere accidents occur... this is a powerful pouch!